Anna Condon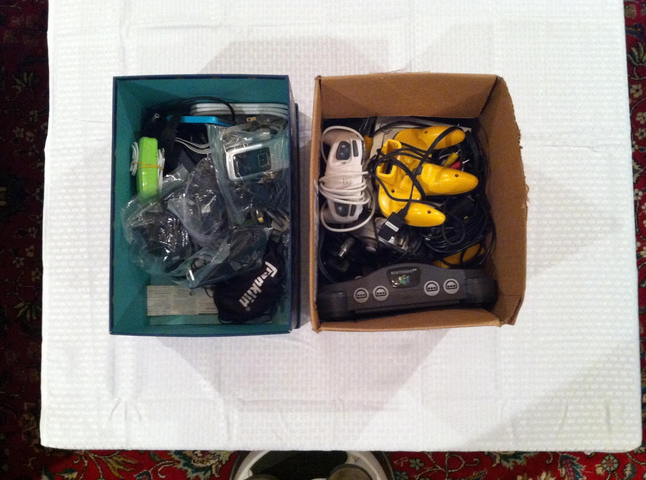 On a day-to-day basis, it is rare that I am without some sort of technological device. If I'm not using my phone, then I am on my laptop. Often I use devices simultaneously—for example, I read my kindle and listen to music while I'm using the elliptical at the gym. Technology has become so integrated into my daily routine that I hardly notice it anymore.
As is the case with many people today, I would say that my phone has become the premier example of my reliance on and reverence for my technology. From the moment I wake up in the morning until I go to sleep at night—and usually when I am asleep as well—my phone stays with me.
Interestingly, I use my phone almost exclusively for music/audiobooks or as a phone. Almost all my social media apps, like Facebook and Instagram, are tools for my social media-marketing job. Often, my friends will complain that I don't update social media enough, or text back with any reliability.
The real significance of my relationship with my phone is as a tool for connecting with absent friends and family members. My boyfriend and I began our relationship by getting to know one another long distance, and we have developed a relationship that relies heavily on our phones. Our lunch dates, Facetime calls and constant stream of voicemails fill the gaps when we are unable to be in the same physical location.
My relationship with my boyfriend is indicative of my relationship to my phone since I got my first one. My first phone was a simple LG flip phone, and my parents only bought if for me because I was going away to boarding school and my parents wanted a reliable way to reach me at school. Throughout high school, and well into college I had "dumb" phones. I began to treat my phone with reverence, as it was my way to contact those that I loved no matter how far away they were from me. Often, I couldn't understand the appeal of a smart phone because I had everything I needed in my "dumb" ones.
My switch to a smart phone was actually forced. Until I got an iPhone, all of my phones had been second-hand. Whenever my mom upgraded to a new phone I would get her old one (if I needed a new phone). When my second Alias 2 was stolen in the spring of my sophomore year of college, the only phone my mom had to give me was her Droid 2. Initially, I was annoyed by the touch screen and app store. However, I enjoyed the increased capacity for storing and playing music.
After I had accepted "smart" phones, I decided to switch to an iPhone because I liked the idea of consolidating my iPod with my phone. Now, my phone lives one my person. As gross as it might seem to some, it lives in a pocket in my bra—and it even stays there when I sleep. My attachment to it has gotten to the point where I have trouble functioning without it—which I realized when I cracked it's screen last semester and had to rely on my computer to communicate with my parents and my boyfriend for two weeks.
Even my now defunct phones still hold some part of me hostage. I keep them, even though I know I could ostensibly pitch them at the recycling center at the entrance of any Best Buy. Some still have pictures or voicemails from years ago that were never transferred to my newer phones. One was just my favorite phone design that I ever had and I couldn't bear to throw it out when I found out they had discontinued it in favor of a newer, sleeker version. I even like to pretend that if anything happened to my phone now, one of them could serve as a stand in until I was eligible for an upgrade on my current phone—which I have only done once. However, most have some defect, such as a broken End Button or inability to adjust the volume—which is why I upgraded in the first place. It's difficult to part with my old technology on an emotional level, but I also don't know how much I trust Best Buy or other recycling centers to dispose of them properly.
My family actually purged much of our older, defunct technology over the past year, so I am familiar with my city's recycling center—the Shelby County Household Hazardous Waste facility. (You can only bring one electronic device per household per month.) I hadn't really considered it until now, but all of the technology we recycled was "family" technology. Our old family computers, dating back to our first Gateway and one computer that only ran DOS. However, underneath a cabinet in the living room is a little repository for all our cameras, cell phones and other more "personal" electronics. It seems that it's more difficult to part with these more personal items.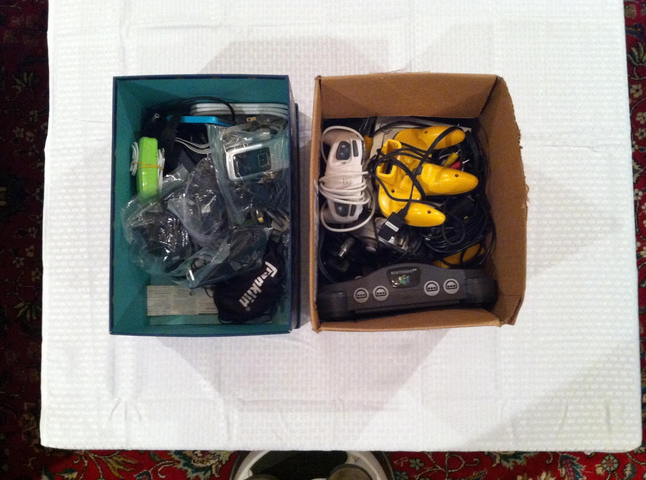 I've never really stopped to consider that my phones seem to conveniently "wear out" right around the time when my cell phone contract is up for renewal. In recent years, it seems that two years is the standard lifespan for a phone before daily wear and tear takes its toll. However, it is no accident that my iPhones need replacement just as the new version is released; rather it is planned obsolescence. According to The Economist, planned obsolescence is "a business strategy in which obsolescence…of a product is planned and built into it from its conception."[i] The logic behind this strategy is that in the future consumers will purchase new products or services from the manufacturer as old products wear out. Many companies even go so far as to say this benefits the consumer, as the customer will stay up to date as the technology improves.

Apple, the progenitor of my various iPhones, iPods, and Mac Computers, has been continually cited as a perpetuator of planned obsolescence within the technology industry. Whether Apple maliciously searches for ways to have their products begin to deteriorate just as a newer model is released is unknown. However, Apple does engage in planned obsolescence as Brook Stevens originally envisioned it in their drive to instill "in the buyer the desire to own something a little newer, a little better, a little sooner than is necessary."[ii]

With a total net income of $39.5 billion in 2014 and 416 retail stores in 13 countries as of September 28, 2013, Apple is a massively powerful corporation.[iii] Therefore, if Apple decided it had an economic stake in utilizing (technical) planned obsolescence, it approaches the monolithic status required to engage in planned obsolescence without being abandoned in favor of a cheaper or better-made alternative.

E-waste is becoming a major environmental problem, given that a staggering "20m-50m tonnes of "e-waste" is produced each year, most of which ends up in the developing world."[iv] When e-waste is not recycled, the hazardous materials contained in them are released into areas surrounding the incinerators or the landfills where discarded technology eventually winds up. According to their corporate website, Apple has a strict e-waste policy that often ensures up to 90% of the materials in their products get reused in some form.[v] Apple's e-waste policy has been somewhat problematic in the past, due to the wording of the policy that may have included a potential loophole for the exportation of e-waste to developing nations.[vi]   However, Apple now states that all e-waste will be handled in the region where it was collected. The voluntary nature of their recycling program means that Apple is not required to provide transparent documentation regarding their audits of their recycling partners. Maxwell and Miller in their book Greening the Media, caution against this type of corporate self-auditing as companies are able to capitalize on 'green prosumption' by saying they are "green" or "sustainable" without providing proof positive to the public.

In order to recycle Apple products, one can trade them in via mail and even redeem some resale value from the item.[vii] Additionally, Apple will take any brand of computer or monitor for free (max – 10 items and 70 lbs.) in the mail and take iPod trade-ins in store. Despite these efforts to recycle the e-waste we are creating, Apple—as well as other mobile phone companies—continually produces more e-waste at an alarming rate. According to Maxwell and Miller, people in the U.S. replace their phones at a rate of once per year and over 130 million phones are trashed in the U.S. alone per year. When Apple unveiled the new lighting charger with the iPhone 5, there was a new kind of e-waste problem associated with the obsolescence of accessories and the impetus to upgrade iPods or iPads in order to have all one's Apple products be able to use the same charger and accessories after upgrading one's phone.[viii] While Apple has made some strides by meeting the requirements of the Basel Convention on the Control of Transboundary Movements of Hazardous Wastes and Their Disposal, planned obsolescence whether social or technical still plays a big role in the creation of—or elimination of—e-waste.

[i] Tim Hindle, "Idea: Planned Obsolescence," The Economist, March 23, 2009, http://www.economist.com/node/13354332

[ii] Catherine Rampell, "Planned Obsolescence, as Myth or Reality," The New York Times, October, 31, 2013, http://economix.blogs.nytimes.com/2013/10/31/planned-obsolescence-as-myth-or-reality/?_r=0

[iii] "Apple, Inc," LexisNexis® Corporate Affiliations™. April 27, 2015. Date Accessed: 2015/05/11. www.lexisnexis.com/hottopics/lnacademic.

[iv] "How green is your Apple?" The Economist, August 25, 2006

[v] "Apple Recycles Responsibly," Apple, Inc, https://www.apple.com/recycling/includes/recycles-responsibly.html

[vi] Jeff Bertolucci, "How green is Apple: Where does the e-waste go?" Macworld, April 21, 2009, http://www.macworld.com/article/1140122/greenapple3.html

[vii] "Apple's Takeback Program," Electronics TakeBack Coalition, http://www.electronicstakeback.com/how-to-recycle-electronics/manufacturer-takeback-programs/apples-takeback-program/

[viii] John Biggs, "Apple Is Creating An E-Waste Problem," August 14, 2012, http://techcrunch.com/2012/08/14/apple-is-creating-an-e-waste-problem/

—

[1] Tim Hindle, "Idea: Planned Obsolescence," The Economist, March 23, 2009, http://www.economist.com/node/13354332

[2] Catherine Rampell, "Planned Obsolescence, as Myth or Reality," The New York Times, October, 31, 2013, http://economix.blogs.nytimes.com/2013/10/31/planned-obsolescence-as-myth-or-reality/?_r=0

[3] "Apple, Inc," LexisNexis® Corporate Affiliations™. April 27, 2015. Date Accessed: 2015/05/11. www.lexisnexis.com/hottopics/lnacademic.

[4] "How green is your Apple?" The Economist, August 25, 2006

[5] "Apple Recycles Responsibly," Apple, Inc, https://www.apple.com/recycling/includes/recycles-responsibly.html

[6] Jeff Bertolucci, "How green is Apple: Where does the e-waste go?" Macworld, April 21, 2009, http://www.macworld.com/article/1140122/greenapple3.html

[7] "Apple's Takeback Program," Electronics TakeBack Coalition, http://www.electronicstakeback.com/how-to-recycle-electronics/manufacturer-takeback-programs/apples-takeback-program/

[8] John Biggs, "Apple Is Creating An E-Waste Problem," August 14, 2012, http://techcrunch.com/2012/08/14/apple-is-creating-an-e-waste-problem/