Elizabeth Cook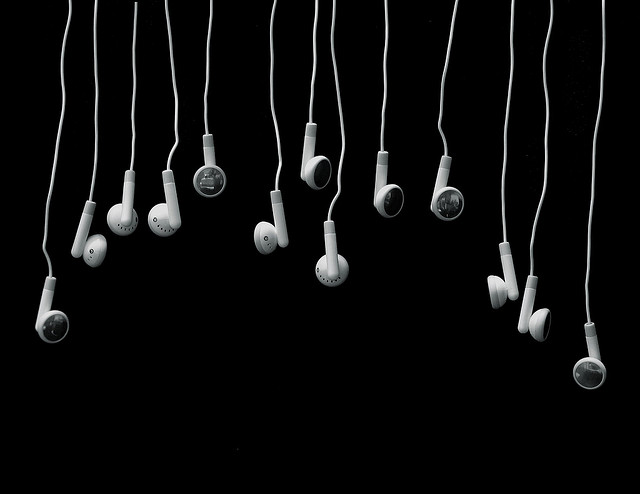 My tangled mess of Apple earbuds represents my succession through many Apple products, each of which came with its own pair of buds that now gets about as little use as the original product itself. My technotrash lies around just as much for sentimental reasons as that I don't know what to do with it. I was never very interested in having the absolute latest tech, and was one of my last friends to get a cell phone. I like keeping my technologies because of the deep connection I make to them; that was the iPod that pumped me up for my big state swim meet in high school, that was the cell phone that facilitated the early phases of my love life, that computer was where I typed my college entrance essays. My loyalty to Apple products and every resulting piece of technology bought is represented through and the "free" earbuds that accompanied them.

My first was an iPod classic that I got in 5th grade. Eventually the battery died and it was laid to rest in a drawer in my parents' house. Earbud set number 1. Next came the MacBook for Christmas of 2006. In my junior year of college almost exactly nine years later, I finally upgraded to a friend's used 2010 MacBook Pro. Somehow I've already lost track of the old laptop not even three months into my "new" computer, and all I have is the pair of earbuds from that era to show for it. First iPhone came in 2009, again with earbuds. I had been an avid Blackberry and then later Droid fan, but with all the other Apple products I had, it felt strange to not complete the set. I finally upgraded to an iPhone 4S in 2012 (the same year the 5 came out), and have stayed with it since, despite its shattered screen. That makes earbud set number 4. Then I started missing my iPod Classic from the good old days and, staying true to my uberloyal way with technology, got another Classic even though the only model available had a ridiculous amount of memory I could never use. It was lost at a swim meet circa 2013, and I've been contemplating another ever since. I just have the earbuds now. I suppose "EarPods" would be the appropriate terminology to use were I to buy a new Apple anything now.

I am currently at five going on six pairs of earbuds and it seems strange that with all the hell those earbuds were put through (tangled in backpacks, shoved in wet ears at swim meets, doubled as cat toys), they have lasted longer than the products they came with. For someone more enchanted by new than I am, the number of earbuds could double or triple. I think mine have stuck around so long because they are the only pieces of equipment that can transcend generations of iPhones or iPods and are still universally compatible. Even with this power though, they still sit alongside the chargers and docks that no longer are, adding to the technotrash clutter.

Apple had huge iPhone sales this past month alone with record earnings and took a massive portion of overall smartphone industry profits over 2014. While Apple still brought home serious dough, it may be forced to turn towards other types of software applications to continue the ability to boast such incredible profit margins. The plateau of iPad sales, for example, could be made up for by the emergence of Apple Pay. As Apple shifts towards decreased percentage of its profits originating in actual hardware, this could imply less of an incentive to find friendlier ways of disposing of outdated or broken products.

The economic stake in planning for hardware disposal remains, however. The biggest reason Apple would show a more ecofriendly and recycle-friendly side to its consumers may be its image. The key to Apple's marketing strategy is simplicity. Both its products and advertising adhere to this method, and it is implied that the type of person they so strongly cater toward with their products would also be in favor of an ecofriendly way to dispose of their product once they are finished with it.

Refs:

DeMers, Jayson. "Here's the Simple Secret To Apple's Marketing Success." Forbes. Forbes Magazine, 8 July 2014. Web. 19 Feb. 2015.

Warman, Matt. "World-Beating Profits – But What's Next For Apple?; Tech Giant Is Planning Beyond The iPhone With Payments And Watches, Says Matt Warman." The Daily Telegraph [London] 29 Jan. 2015. LexisNexis Academic. Web. 19 Feb. 2015.

Wolverton, Troy. "Apple's iPhone Profits Leaves Rivals with Little but Table scraps." San Jose Mercury News [San Jose] 9 Feb. 2015. LexisNexis Academic. Web. 19 Feb. 2015.