Ariel Goltche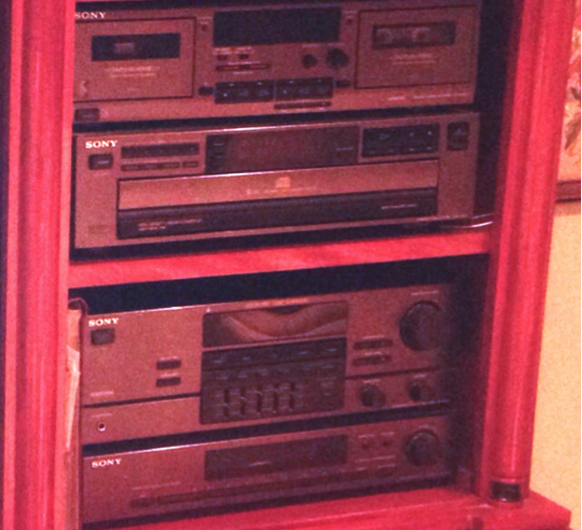 The electronic device that I used to depend on the most in my life was my stereo system. As a little kid, I did not have a cellular device to contact my friends, a computer to surf the web, or a television in my bedroom to watch cartoons. The majority of my technological entertainment came from the use of my Sony stereo system. This apparatus has both cassette tape and CD players.
In retrospect, I realize that the constant use of my family's stereo completely shaped my childhood. Every birthday or holiday was another excuse to buy a new CD recorded by my favorite artists. I cannot remember a single sleepover that I enjoyed with my friends when we would not blast music on my stereo, or any party that my parents hosted in which the stereo was not played throughout each room of the house. The reliance that I had on a form of technology, and the ways in which it contributed to my warm memories as an adolescent, appear to be the "secret power" discussed in Turkle's argument. This secret power seems to be the reliance on a now obsolete form of technology during a particular period in my life; these are recollections that have created nostalgia for a time and place that are embedded in my youngest days.

Since 1995, the year that I was born, as well as the year that my family purchased this Sony device, countless music players have been created, both by this company, as well as hundreds of other electronic manufacturers. The implementation of new technologies into the market has outdated our old unit. Although the sound system was such a pertinent part of our lives, more advanced sound systems (i.e., laptops, iPods, iPads, speakers, headphones) have replaced my family's need for our now archaic stereo. Because newer innovations have served up the same entertainment, as did our old stereo player, changing from one device to another was not difficult for any member of my family. Moreover, our modern technologies being far more advanced, function without the need to purchase CDs or cassette tapes at a music store, and they play music with a much greater sound quality. We have actually marveled at the ease with which we have evolved electronically and musically, and the transition has been without any reservation.

Though I cannot remember the last time any person in my family, myself included, has used our Sony stereo system, the cassette and CD player still inhabit our den. What seemed like the perfect spot for our sound system at the time, placed atop our large television unit, now proves to be a waste of space. Today, this once-loved relic of a bygone era continues to reside in its original domain solely for show. No one has felt the need to change its location, most likely due to the sentimental value of the machine within our family. In fact, the very obvious location of our stereo system in an oft-used room appears to contribute to Turke's "secret power," as well. Despite the fact that we have long ago transitioned to modern modes of sound production and entertainment, it is ironic that we have never chosen to move our old system. We don't use it, but subliminally, it surely resides in some intangible place.

So much of the wistfulness that we feel as we ogle the ancient box is derived from the countless merriments in which the music player was the main event. For each one of us, this obsolete technology is a source of unique as well as shared memories; the "secret power" is that it holds an innate ability to remind us of our past years, old friends, and fondest reminiscences.

Sony Corporation, though not originally referred to by this name, began as a much smaller establishment. In the year 1946, Sony was lead by one man located in Japan. After years of company growth, the Japanese enterprise has proven to have paved a path for countless other technological companies that currently thrive, as a result. According to the numerous articles discussing Sony's net profit in the year that my particular stereo system was made, the corporation has achieved great success. Moreover, from 1994 to 1995, Sony stated to have a net profit growth of 50.4%. This same year, the technological corporation's pretax increased by 4.8%. About twenty years later, Sony Corporation appears to have suffered significant profit depletion. In 2014, Sony faced a net loss of $1.1 billion. This is most likely due to technological competitors, the main one being Apple, that have outdone Sony's products in a variety of ways.

Sony is currently aiming a restructuring plan that will maximize its' future profits. The company's target is $4.2 billion in annual profit by March of 2018. To achieve this goal, over the course of the past two years, Sony has decided to "ease away from its reliance on computers, televisions and mobile phones," and rather, develop smaller-scale technologies. The depletion in Sony's overall annual profits since 1995 appears to be a direct result of the change in demands of the public. Sony's plan to restore multiple fields in the business are necessary in order for the company to thrive similarly to the way it did twenty years ago.

"Sony Profit Recovers in Third Quarter: Electronics Sales Strong, but Outlook Clouded by Movies." Lexis Nexis. Web. 20 Feb. 2015.

"Sony Announces $1.1b Net Loss." Chinadaily.com. Lexis Nexis, 7 Feb. 2014. Web. 20 Feb. 2015.

Mozur, Paul. "Sony Aims for Huge Leap in Profit." Bits Sony Aims for Huge Leap in Profit Comments. The New York Times, 18 Feb. 2015. Web. 20 Feb. 2015.