Sydney Clarke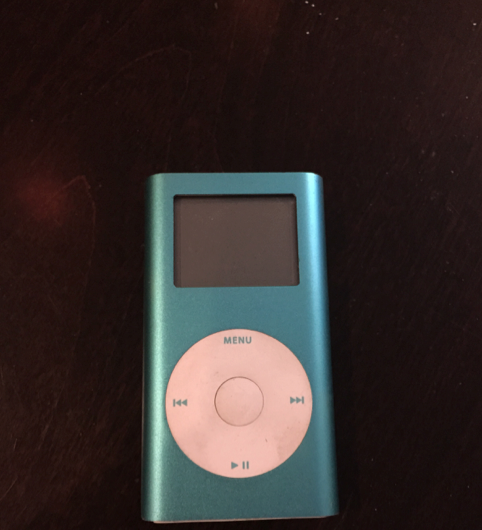 One of the turning points for me was when I received my first iPod, or my first "real" piece of technology. I remember begging my mom for weeks to get me one for my birthday, insisting that my Sony Walkman just wasn't good enough anymore. After relentless persisting, she finally gave in and took me to Best Buy. I walked into the store and watched in awe as the salesman went into his special glass case and pulled out my baby blue iPod Mini. To my fifth grade self, this was the greatest moment ever. I finally was able to listen to all of my cool music (at the time, a lot of Britney Spears) without having to deal with pesky CDs or poor radio reception.

Getting an iPod opened up a whole new chapter in my life– an era of musical discovery. To me, the secret power of the iPod was the power to discover. Now that I had this small, portable thing that would hold my music, I could search the Internet for new bands and purchase the music I found with a click of a button. I no longer had to pester my mom to drive me to the nearest record store (a now foreign concept!) to pick up a CD, but rather could just get on the computer and click to purchase whatever my heart desired, even if just one song! While some people may look at this device and just see an iPod, I look at it and see the beginning of a new chapter in my life, one that I still am in now. It was the first time I really began to understand and appreciate music and culture. I loaded this thing up with everything from Ciara to The Phantom of the Opera songs.

Sadly, as with all technologies, the time came when I had to give up my cool, blue iPod Mini. After a bit of time (I would say around 3-4 years) the battery stopped holding a charge, and I was forced to upgrade. At this point, I had already had the battery replaced once under my handy protection plan, and didn't want to go through the hassle of doing it again. For my next birthday, I once again found myself asking for an iPod. At this point, it had become such an integral part of my life that I could not imagine living without it, and therefore decided to go through with the replacement. At this point, the "hot model" was the iPod Video, recently rebranded as the iPod Classic. It boasted more storage and the ability to play video. Although I didn't need most of the features on it (I still do miss my Mini), I went for the purchase. Against all odds, I was able to keep this iPod working for the next few years, up until I got my first iPhone in 2009. While it was hard to part with, it did find a good home with my mom, who used it after my departure. Shockingly, unlike most Apple products, this one did not fall to the curse of planned obsolescence. While I did have to replace the battery after exactly two years (which I never gave much thought to until now), the device itself kept on working for many years after.

As I grew up (and, sadly, grew out of my Mini), I still found myself relying on my iPod and the entire iTunes system in general. Now, I could not imagine life without it. Whenever I travel back home, go to the gym, or even drive in my car, I find myself using my iPod. It allows me to be constantly entertained, and prepared for whatever musical situation I may find myself in. I have been loyal to Apple music products ever since, and am now on my second iPhone and 5th total device. I still, however, think about my Mini and all of the joy it brought me. It reminds me of a great time in my early teenage years, and always will have a special place with me. But, the question still remained, if I didn't want to keep this, where do I recycle it? Who profits from my iPod, and would they want to recycle it?

As it turns out, a little tech giant called Apple, who has been rolling out the devices for over a decade, created my beloved iPod. While the company recently discontinued their "Classic" iPod model, which featured a click wheel and a non-touch screen, their profits are still skyrocketing. In my research, I found a document by a company called Hoover's, which keeps records of major companies' financial statements. As of 2014, Apple was number 5 on the Fortune 500 ranking, racking up $65.2 million dollars in the United States in that year alone. In this time, however, the sales of iPods went down almost 50%, but the company was still able to make a large profit off of them.

The majority of Apple's sales, however, come from the iPhone, which can be seen as a fancier and more alluring version of the iPod. iPhones have taken over the market once occupied by iPods, due to the fact that they can play music as well as a variety of other features. iPhones racked up $101.9 million dollars for Apple worldwide in 2014, which is quite a bit more than the $2.2 million coming from iPods.

Overall, Apple controls much of the overall digital market. Products such as the iPhone, iPad, and MacBook are dominating the playing field, and generating a huge amount of revenue for Apple. In order to keep up with the demands of their customers, and to ensure that people continue to buy the products they put forward, I believe that it is important for Apple to have some sort of recycling strategy in place. It turns out, this belief is correct.

Apple rolled out a recycling program way back in 2005, due to complaints from consumers. The program promised a discount towards a new Apple device with a trade in of the old one. According to a news release (published in 2005), the recycling program "emphasized that any hazardous material would not be shipped overseas for processing." This, however, was 10 years ago. The press release also did not specify where the products would be recycled, only that they could be brought to a store and shipped away. So, has the process changed in the past 10 years?

Now, when you Google "Apple product recycling," there are a multitude of sites that appear. Apple's recycling program is one of the first hits, and much like the 2005 initiative all the consumer needs to do is bring (or send) in their device and they will receive credit towards a new one. Online, consumers click on which product they are trading—iPhone, iPad, or Mac. When selecting iPhone or iPad, you are brought to the page of a company called Brightstar Corp. For Macs, the recycling is done by PowerOn recycling. So, who are these companies? Where do the products go once they are sent in to the great recycling unknown?

Brightstar Corp. is a telecommunications company that provides wireless services and products around the world. In addition to this, they also offer trade in and recycling services for companies like Apple. According to their website, Brightstar is able to resell 95% and then "responsibly recycle" the remaining 5%. This is still pretty ambiguous. Searching where the products go via Google only leads to pages where the majority of people are complaining that they did not get the value that they expected. People were outraged with the money they were getting back, but not one questioned where their phones were actually going?

Next, I looked into PowerOn. Unlike Brightstar, PowerOn only focuses on recycling and repurposing electronics. Their website boast the "environmentally friendly" nature of the company, but once again does not say where the products are going once they are sent in.

The agreement that Apple has with its recycling companies provides a bit more insight into what happens to the products. Apple requires that any usable material is repurposed and made into something that could be used for future production. Nothing can be contracted to third parties, and nothing can be shipped outside of the U.S. without the written consent of Apple. The company must submit a report back to Apple upon completion.

Overall, the process of recycling is pretty ambiguous. As Maxwell and Miller discuss, a majority of the burden is put on the consumers. Apple makes the consumer return the product to the site, and does not make the whole process clear. They entice consumers with a cash discount, but do not reveal exactly where the recycled goods are going. The third party recyclers do an even worse job of revealing where things go, opting for ambiguous terms. This makes the process of recycling tech very murky and unclear.