Samantha Levitt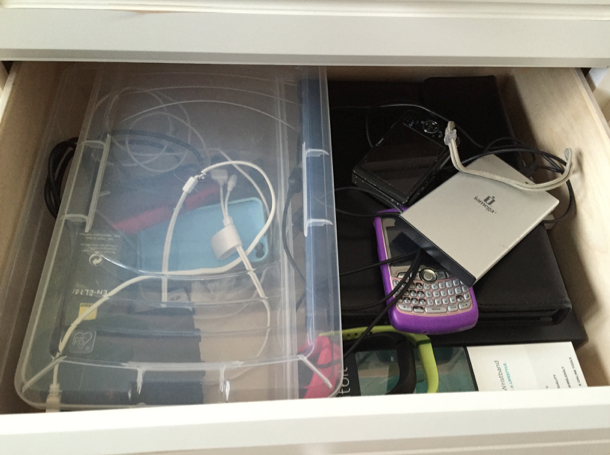 I cannot go a day without my phone. The same can be said about the charger, as well, because the phone is virtually useless without the charger.

My days start off with the sound of the alarm ringing at the highest possible volume from my phone. One could say I am dependent on my iPhone. I use it everyday – I call my parents at home in New York, text my sister in California, snap a quick picture, and find out the weather before I walk to class each morning.

Last semester, one of my professors asked each student in the class to stop using his or her phone and computer and "unplug" for just twenty-four hours. The class response was unanimous – easier said than done.

Since I grew up in a "wired" world, surrounded by technology, it is very difficult to imagine a world without iPhones, Netflix, and streaming music. I was fortunate enough to receive my first cell phone when I was in sixth grade. Although I was limited to texting and calling, I was content with the abilities of the phone. Since then, I have had four other phones, each of which had new features and came with its own unique charger.

I have hoarded all of my old devices and the chargers that go with them. In the white-painted, wooden nightstand that sits next to my bed, there is an entire drawer dedicated to old and useless devices that I will most likely never use again in my life – I call this my "junk drawer." I often find myself going back to this drawer to compare my newest technological devices to the old ones collecting dust – most are physically beat up and probably would not even turn on if I tried. I question if they will have any importance or value in the future. Instead of properly disposing of these products, I keep them to bring back memories. I get a nostalgic feeling when I go through my old devices in the drawer; it takes me back to time in my life when the devices were alive and I was dependent upon them.

Each time I get a new phone, I agree to a two-year contract with Verizon Wireless. I found over the years that my phone starts to slow down as the end of the second year approaches. Companies are creating products with a lifespan of two years to help their businesses. This is the idea of planned obsolescence. One contributor of the Planned Obsolescence Documentary stated, "We live in a society dominated by a growth economy whose logic is not creating because we need things, but just for the sake of it." Another contributor defined planned obsolescence as, "the desire on the part of a consumer to own something a little newer, a little sooner than is necessary." Planned obsolescence is controlling the technology market and producing more e-waste than necessary ("Planned Obsolescence Documentary"). Companies should consider the environment and take responsibility for the amount of waste the products are creating each time someone gets a new one.

Apple, the genius behind the iPhone, has been incredibly profitable. After the previous quarter, with the release of the iPhone 6 and 6 Plus, Apple reached a record high of $19.4 billion in pre-tax profits (Wolverton). According to Troy Wolverton, a journalist for San Jose Mercury News, "Apple sold 192.7 million iPhones in 2014, which accounted for 15.5 percent of the total smartphones sold." Based on this statistic, Apple dominates the smartphone industry. People consistently buy new devices as soon as they are released, regardless of the condition of their old device. Techno-trash multiples every time Apple releases new phones and products, which is very often. Wolverton also reported that, "For all of 2014, profits from iPhone sales accounted for 79 percent of profits." This shows that iPhones, in particular, are Apple's best selling products and likely the most frequently "trashed" or replaced (Wolverton).

Apple has a full line of other products, but none have reached the same level of success as the iPhone. Apple currently has the iPad, iPod, and a watch. From my experience, I have never replaced my iPad and I have had three computers over the course of ten years. On the other hand, a period of four years, I have had three different iPhones. Smartphones are only getting smarter, and users are always left wanting more. While Apple's profits appeared to be slowing, "Sales of iPhones, including the new, big-screen iPhone 6 models released last month [November 2014], helped carry Apple to a record-breaking quarter and offset slowing sales of one of Apple's other major products, the iPad…" (Chen).

Until recently I was unaware of the extent of waste that electronic devices have created. I am currently taking Technology Analysis, a course that has opened my ideas to the world of e-waste. I believed that in order to "go green" and "go paperless," technology was the answer. It appears to me that the use of technology is not necessarily a "solution" considering the amount of waste technology produces.
With just a quick Google search, I was able to find out that it is very easy to dispose of old electronic devices. Many cellphone companies, such as Verizon and AT&T, have recycling programs to reuse and refurbish old devices. These companies will actually take devices back and fix them, or pull them apart, piece-by-piece, and use miscellaneous parts to fix other phones. There are also locations in many communities that will collect and recycle materials of products that people no longer need.

I found that there is a program called S.T.O.P. (Stop Throwing Out Pollutants) in my local town, the Town of North Hempstead ("Sanitation and Recycling Information"). The New York State Department of Environmental Conservation created a "disposal ban" and stated, "Beginning January 1, 2015, consumers may no longer dispose of certain types of electronic equipment in landfills, waste-to-energy facilities, in the trash, or at curbside for trash pickup. Use the recycling options described below" ("Recycling Your Electronic Waste"). With this statement, the New York State Department of Environmental Conservation released a list of alternatives including electronic waste sites and manufacturer takeback programs for members of the community to reference. The Town has initiated this recycling program with the intention to provide environmentally sound alternatives to dispose of e-waste as well as products such as lights bulbs and batteries ("Sanitation and Recycling Information").
While many people, like me, feel that they cannot go a day without their smartphones, they often forget about the harmful matter that phones contain. According to the research of Maxwell and Miller, authors of "Greening the Media," "More than a hundred and thirty million of these devices are trashed annually in the United States alone, where people purchase replacements once a year, on average – a direct outcome of the business strategy planned obsolescence" (Maxwell, 39). Maxwell and Miller also found, "In a phone that you hold in the palm of your hand, you now have more than 200 chemical compounds" (Maxwell, 39). These facts should make you think twice before buying a new phone, tablet, or computer and consider where you dispose of devices when it is time.

There are various programs that are very similar to S.T.O.P. all across the country. The information is right in front of us and business and individuals needs to become more aware of the damage that electronic waste is creating. We all need to make more of an effort to minimize e-waste because it is only growing.

WORKS CITED
Chen, Brian X. "New IPhones Help Apple Post a Record Profit." International New York Times 22 Oct. 2014: n. pag. LexisNexis Academic. Web. 17 Feb. 2015.

Maxwell, Richard, and Toby Miller. Greening the Media. New York: Oxford UP, 2012.
Print.

Planned Obsolescence Documentary. Film.

"Recycling Your Electronic Waste." http://www.northhempsteadny.gov. 3 Mar. 2015.

"Sanitation & Recycling Information ." Town of North Hempstead. Web. 8 Mar. 2015.

Wolverton, Troy. "Apple's IPhone Profits Leaves Rivals with Little but Table Scraps." San Jose Mercury News 9 Feb. 2015: n. pag. LexisNexis Academic. Web. 17 Feb. 2015.