Rae Robey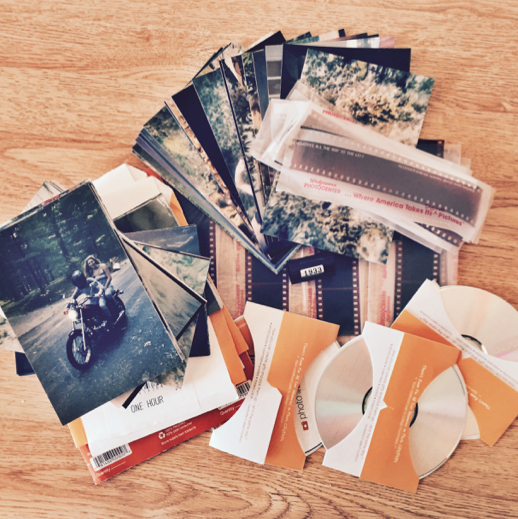 Considering how much of our time is dedicated to broadcasting visual proof of our day-to-day lives, it's no wonder that my peers and I have come to be known as the "selfie generation." It is now nearly impossible to escape the lens, with anything from phones, tablets and laptops to televisions all boasting camera capabilities. The same narcissism is echoed in the rapid acceleration in the development of image capture technology, and has been highlighted further by the introduction of novelty tools like the "selfie stick" and smartphone apps like Instagram. Unfortunately, as image resolution gets higher and camera size gets smaller, we accumulate more than just decades worth of photo evidence – we accumulate piles of techno trash from it as well.
When I came to Tulane, I brought 147 4×6 prints (out of a collection of over 400) that I took using disposable cameras, thinking I would have an entire wall dedicated to the memories I had compiled over the past 3 years. I hung up 9, and the rest sit in their original envelopes in my desk with their negatives. It's interesting that – despite having numerous more eco-friendly possibilities to choose from – I generally opted to buy disposable cameras in order to take hundreds of pictures that I would only ever use as placeholders.
My friends went through disposables as rapidly as I did. Between my closest friends and I, it adds up to over 50 cameras in high school alone. In my freshman year at Tulane, I took a film photography class that required me to have a 35 mm film camera. While searching for the Pentax k1000 my parents had saved from years before, I also found three defunct digital cameras from the 90s and early 2000s in addition to our 2012 Nikon Coolpix, a brownie camera that belonged to my grandfather, a 2013 camcorder and a super 8 from the 70s. On the one hand, we kept the cameras because no one knew how to dispose of them. On the other, something entirely separate from the usual environmental concerns kept us from disposing of them; we can't bear to part with these technologies, and couldn't even if we wanted to. Besides, as every pseudo-hoarder knows, "we might need it some day."
Kodak seems to have undergone the same nostalgia-based crisis that consumers have, with various financial analysts attributing the 2012 chapter 11 bankruptcy filing to its failure to break into the digital imaging industry, or to even recognize its potential as a disruptive innovation (Mui). Despite having engineered the first digital camera, Kodak's insistence on pushing the film market past its prime and failure to successfully commercialize the digital technology that it developed led to its current status as the most impressive victim of the emerging digital age. Afraid that developing the digital camera further would mean abandoning the film market it had worked so hard to promote, Kodak ignored the pressing need to address the impending explosion of a new digital market (Knowledge@Wharton). By the time Kodak filed for bankruptcy, downsizing had decreased employees from 63,900 worldwide to a mere 17,000, and market value had fallen from $31 billion in 1997 to just $200 million in 2012 (Baker).
Decades before this, however, the market for the film camera and associated technology was growing rapidly, alongside impressive quantities of waste that cluttered municipal waste dumps. This negligent misuse of natural resources prompted environmental watchdog groups to call for a more thorough and responsible recycling policy that would limit the number of plastic cameras piling into landfills, which reached an estimated 45 million annually (San Francisco Examiner).
Ineffective initial recycling policies – in which small photo developing companies would be compensated for the return of used camera bodies to Kodak – appeared genuinely effective. By the termination of the buy-back program in 2009, reports estimated that of the 1.5 billion camera bodies collected and recycled, nearly 1 billion were Kodak brand, giving the company an overall recycling rate of 84% (San Francisco Examiner). Still, the market for single-use cameras multiplied dramatically during the 90s regardless of brand, leaving millions of "disposable" cameras and the (supposedly minimal) non-recyclable parts unaccounted for.
Production of film cameras was terminated in 2004, followed shortly by a decision to discontinue production and sale of color film just 5 years later despite Kodak's promise to continue the tradition of film photography (Sparkes). Post-bankruptcy Kodak emerged as a smaller company, geared more toward capitalizing on the demand for digital imaging technology in the medical, scientific and commercial markets. Negotiations during bankruptcy resulted in the UK Kodak Pension Plan purchasing the dying imaging business from the parent corporation to settle a $2.8 billion claim, establishing the newfound Kodak Alaris as Brand Partner and owner of Kodak's consumer and professional film products (Associated Press).
The environmental policy of Alaris centers on outwardly advocating environmentally sustainable practices, but places responsibility primarily in the hands of the consumer and the independent photofinisher. While these parties are free to use the recycling information and resources on the Alaris website, the company will no longer involve itself in the process except where required by law. Though at superficial levels it can appear that the consumer actually has a great deal of impact, this bottom-up ethic is not easily translated to the on-the-books legislation necessary to actually impose regulation regarding environmentally unsound company procedure. Simply put, it has too much faith in Alaris, assuming that it will listen to the consumers and therefor commit to "going green," rather than simply re-branding or marketing products as eco-friendly to the more environmentally-conscious (but still just as gullible) audience.
In the search for information on current recycling policies and the cost-analysis of the buy-back program, I was transferred back and forth numerous times between Kodak and Alaris with the promise that the other had the information I wanted. It became impossible to figure out which parts of the camera bodies were unable to be recycled, or even how much waste was generated from them. In asking questions about incentives to encourage the photofinishers to play an active part in recycling the cameras (rather than just throwing them away), I was referred only to the FAQ page on the corporate website. Kodak Alaris no longer offers live support in regards to single-use cameras, and email inquiries were met only with indirectness, if responded to at all.
It is interesting to note that Kodak enjoys the perks of framing products as "green" as long as it is advantageous, but shifts tactics when questions regarding the motivations for abandoning the recycling program are asked. Perhaps Alaris is trying to cultivate a strong sentiment of civic responsibility. Alternatively, it could be that Alaris is just remarkably adept at working an angle – they wouldn't be alone in that.

Works Cited

Associated Press. "Kodak says it emerges from bankruptcy with tech focus." Daily News Egypt. 4 Sept. 2013. Web. 12 March 2015.

Baker, Liana and Jonathan Stempel. "Scaled-down Kodak expected after bankruptcy; Photography icon one of the biggest casualties of the digital age." Ottawa Citizen. 20 Jan. 2012. Web. 6 March 2015.

Mui, Chunka. "How Kodak Failed." Forbes. 18 Jan. 2012. Web. 6 March 2015.

San Francisco Examiner. "Single-use cameras popular, cause pollution." St. Petersburg Times. 4 Sept. 1994. Web. 6 March 2015.

Sparkes, Matthew. "Kodak: 130 Years of History." The Telegraph. 19 Jan. 2012. Web. 6 March 2015.

Knoweldge@Wharton. "What's Wrong with This Picture: Kodak's 30-year Slide into Bankruptcy." The Wharton School, University of Pennsylvania. 1 Feb. 2012. Web. 6 March 2015.