Eleanor Mayer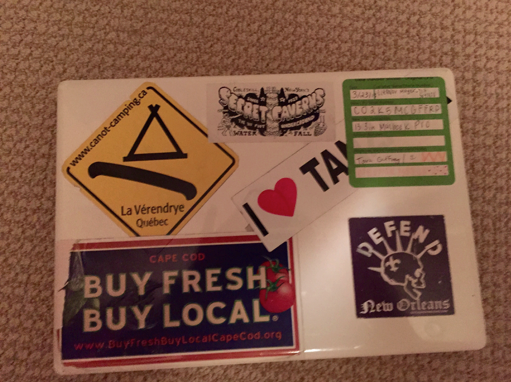 Sitting, untouched and dead, on the third shelf in my closet is my white, sticker clad Apple laptop purchased in 2007. From seventh grade till twelfth grade, that computer was my lifeline. Every assignment I ever did is still saved onto its hard drive, including draft after draft of grueling college essays. Since I bought my laptop eight years ago, Apple has come out with so many different versions of the Macbook that I cannot keep up, nor do I want to. Most people say Apple computers are only meant to last two or three years, but somehow I managed to squeeze five years out of mine. I must admit though, after a few years my computer did start to run a little slower, applications began unexpectedly quitting, and by the end I was often typing papers praying my computer would not randomly shut down. But, my five years with my laptop were some of the best years.

For my high school graduation gift, I got a new laptop. The realization that I must get rid of my old, trusty computer was a scary one. Yes, all I did was complain about how slow it was, but my computer had been with me through so much, it almost felt like a part of me. It had begun to symbolize the future. As a young girl being able to type up documents felt grown up, and as I became older it transformed into the tool that would help me start the rest of my life, college essays. At the same time, I understood that my laptop had done its job and was ready to retire.

One thing that never crossed my mind is what would happen to my old laptop once it had been replaced by a newer, shinier version. And the answer is simple, nothing. It still sits dormant in my room waiting for someone to use it. I keep it in case of an emergency, but in all actuality, I am not even sure if it would even turn on at this point.

I know that soon I will have to find a way of disposing my old laptop, but I have no idea how. In high school, I volunteered at an organization that collected old technology, fixed what was broken, and then donated the gadgets to families in need. But, for the life of me, I cannot remember the name of the organization. After spending over thirty minutes on Google trying to find the organization, I have come to the conclusion that it no longer exists. I did find a few other places to drop off old technologies in my hometown, Houston.

The best option for technology donations in Houston is Goodwill or Compucycle. These donation centers, though not centrally located, accept items from PCs, servers, laptops, and game consuls to old cell phones, PDAs, tape drives, and cords. From my research, it seems as if donating my laptop would be the best way of disposing it. It would allow someone else to squeeze a few more good years out of it. But what happens after that is a question that has been running through my head nonstop. Although I do not know where my laptop will end up, I can only hope that what is now my beautiful machine of memories will not end up as pollution in a third world country.

My old laptop is an Apple Product. Apple is one of the largest technology distributer's in the nation and has around 92,600 employees. The company was founded in 1976 by Steve Jobs and is now headquartered in Cupertino, Ca. The company mainly produces personal computers, portable digital music players, and mobile communication devices. While reviewing the list of products that Apple makes its crazy to see the variety of different technologies the company encompasses. It makes everything from iTunes (music listening service) to fonts to software and telecom technologies. The company has so many different products people could subsist solely on Apple and not lack for anything. In 2014, Apple made $182,795,000,000 in sales and had a net income of $39,510,000,000 (Corporate Affiliations 1). Even though Apple has so many resources available to them its sad to learn that recycling/disposal of products is not a higher priority. On its website, there is a page that walks users through the processing of sending back reusable products. Their website boasts that Apple meets the requirements of the Basel Convention on the Control of Transboundary Movements of Hazardous Wastes and Their Disposal. The site also says that Apple recycles "key components" of their products, but fails to mention what happens to the material that cannot be reused in new products? Another interesting part of Apple's website is the list of unaffiliated places to recycle in both American and the rest of the world. But, in the United States section, Apple only give places to recycle in 14 out of the 50 states. Clearly Apple is aware that technology recycling is an important part of their industry, but there is still much work that must go into making disposal of technology more common and accessible.

Sources

"Apple – Recycling Program for IPod and Mobile Phones." Apple – Recycling Program for IPod and Mobile Phones. N.p., n.d. Web. 20 Feb. 2015.         <https://www.apple.com/recycling/ipod-cell-phone/>.

LexisNexis® Corporate Affiliations™. (February 9, 2015): LexisNexis Academic. Web.            Date Accessed: 2015/02/19.