Alexis Gavrelis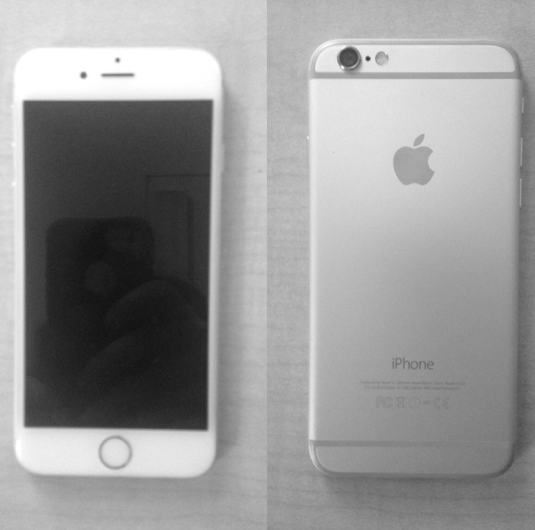 I received my first cellphone when I was 10 years old. I like to think of it as a product of divorce. It was a flip phone, no camera—it was strictly to use it for calling home and staying in touch when I wasn't. When I was with my dad, I used it to call my mom. When I was with my mom, I used it to call my dad. My twin sister and I shared the phone and never argued over who would get to use it and when. It was just a square piece of technology we used when we needed it. I remember I received it just before my first trip to New York City. The first call I made on it was just letting my mom know I had gotten there safely. I didn't text her either—dialed her number that I had just recently gotten to know by heart.
When I was twelve I asked for my own phone separate from my sister. It was navy blue and had a camera on it. I thought I had won the jackpot when I received it in my stocking on Christmas morning. From then on I was never disconnected. Whenever my friends needed me all they had to do was shoot me a text, it became a way of communicating that was exciting and new.
A year later I begged for a different phone. I remember the screened flipped up horizontally so that the phone resembled a "T" and I needed to have it. I wanted it so badly that I changed my computer background to a picture of it. I was the queen of passive aggressive begging. When I got that cellphone I actually believed I would have that phone forever. I was thirteen and it was perfect. Funny how those things go. I still have it somewhere hidden in a desk in my room at home. I couldn't bring myself to throw it away, or recycle it, or whatever you're supposed to do with old phones these days. There were texts and photos that became more than memories on that phone, kind of like a digital scrapbook. It felt foreign to think of getting rid of it. So every time I got a new phone, the old ones just took their spot in a drawer in my desk in my room and they stayed there, even to this day, just in case I ever want to dig them out and scroll through the different memories housed inside of them.
After my T-phone, I made the switch to the Apple iPhone and I have never looked back. I got the iPhone 4 and have upgraded every few years when my contract allows it. Sometimes the technology frustrates me—not enough storage, too expensive, but I can't imagine not having an iPhone. It keeps me connected in a way that I never thought imaginable. I am virtually reachable at any time of the day. I have notes, photos, videos, messages, and my calendar all on my phone. When I lost it one night I remember having a mini freak out over the idea that I would be unreachable. How would I call home? It has become quite the safety net—even when I'm alone I'm nowhere near feeling alone.
Based on some research, it is very clear to me that Apple is one of the most powerful players in the technology game today. According to an article written for the San Jose news, apply made about $19.4 billion in iPhone sales just during the holiday season alone—even more astounding? Those profits account for about 93 percent of total profits generated in the entire industry. No matter which way you look at it, Apple is an undeniable powerhouse in the communication and technology worlds.
Which makes me wonder if people would ever really be willing to call them out on their technological waste practices. I mean, the company accounts for almost all profits generated within the tech industry. What power does the consumer actually have?
After digging through a few pages of results, I did come across an interesting article regarding e-waste and Apple computers. It reported that in 2009, Apple organized a weekend where people could recycle their old computers. By mid afternoon that day, all the shipping containers brought in for the event were full. Apple called this a "huge success." And while, yes, it might seem successful that people are donating their old pieces of tech instead of letting them sit in the bottom of their closets, what really happens to the computers once their thrown into the shipping containers?
It seems to me that more likely than not, Apple (as a corporation) is concerned with keeping up the appearance of being responsible when it comes to electronic waste, but isn't actually concerned with the disposing of it. I think my next step in researching will be to figure out what they do with the "refurbished" phones they collect when people upgrade to newer phones.
With these suspicions in mind, I took to the World Wide Web to try and discover the truth behind what really happens to my "recycled" Apple e-waste. From what I learned reading Greening the Media, major corporations (like Apple) are centered around an anthropocentric understanding of the environment and care first and foremost about making money and tend to view the world in such a way that conveniently allows the focus to be on consumer/producer rather than the environmental effects of their products. My first stop was the Apple website itself. All I had to type in was "Apple recycling policy" and I was redirected to a page in their site that began with the phrase "We want to leave the world better than we found it."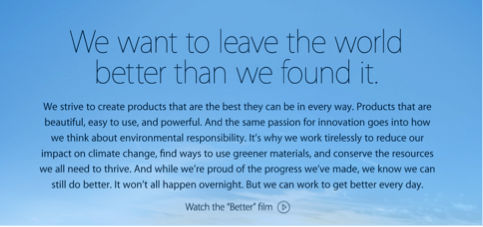 They even have a video that goes along with the page to make consumers feel good and responsible about the purchasing of these products. There's an entire paragraph devoted to the recycling of their products, the company even goes as far as to say, "even the paper we use for our product packaging, iTunes Gift Cards, and iPhoto products includes recycled or recyclable materials." That sounds great—but it simply says that Apple now accepts old products at ever retail store for "free, responsible recycling." What does that mean exactly?

Countless web articles discuss the issue of Apple continuously scoring low on e-waste rating studies. One such article on techcrunch.com talks about the switch to a new 30-pin doc device to their products. I remember this switch well and I also remember having to completely replace most of my electronics due to this change. According to this article, Apple had sold over 610 million devices with 30-pin dock connectors, and on top of that it was estimated that there was around $2-$3 billion in sales of iPod accessories—all of which were basically unusable with the introduction of the new port. That's a lot of e-waste.

So feeling like Apple was a little bit of a dead end, I decided to take a different approach and look at specific phone companies and what they did with the phones that were no longer being used. I called Verizon who told me that they would send me packaging to ship my old phone back to them where they would refurbish it and resell it to other costumers. I didn't quite understand how this would work if my phone had been cracked or beyond saving, but I figured that if my old phones were just collecting dust in my desk drawer than it wouldn't hurt to have them refurbished and reused.

Throughout this research I've found that whatever a company's stance on e-waste is, there is most definitely room for improvement. We as a society have an enormous way to go before we can safely say that this is not a growing issue of concern. While I applaud Apple for its strides toward sustainability, I think that what may look great on the surface, such as their website and it's promised devotion to the environment, might also be more of a show than anything else.

Works Cited

https://www.apple.com/environment/

Maxwell, Richard, and Toby Miller. Greening the Media. New York: Oxford UP, 2012. Print.

http://techcrunch.com/2012/08/14/apple-is-creating-an-e-waste-problem/