Antonietta Perretta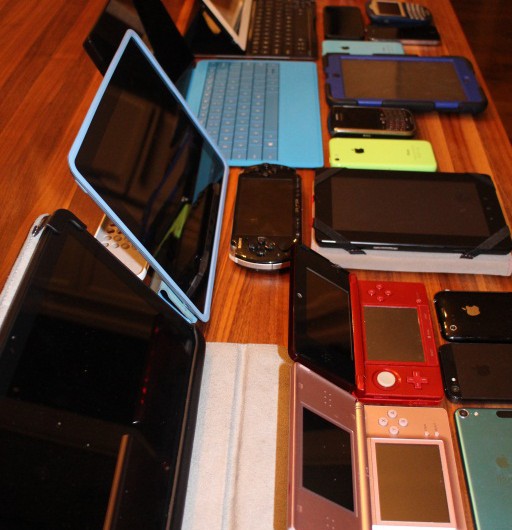 Judging from the photo on the left you might be surprised to learn that Isit by my 6 year old Dell Latitude E4300 laptop to complete my assignments and my work every day.  This, I understand, is considered an epoch by technological standards.  My place of work has since purchased the third generation iPad and the Windows 8 Surface pro for me so that I may conduct my work with ease.  Yet I still use this computer, which has crashed and been refigured three times in the last fourteen months. The gentleman who repaired it the last time referred to is as a coaster. Those who know me well would not be surprised to learn that I am using my laptop when I have these other devices at home.
My husband and kids are the techies in my family.  The good news is that I did not have to spend much to get the devices you see in the photo.  My husband has worked in the telecom industry for over 20 years. His job brings with it many fringe benefits.  The last time he attended a conference he came home with an iPad mini and an Xbox 360.  It is important to his company that he uses the most current devices so that he is able to promote the products to his clients and conduct his work more effectively.
In this photograph you will see all the cell phones I have owned and used in the past.  All but one is included here.  If it did not belong to the company it too would have shown up in this photos as well because I tend to keep all of my electronic devices.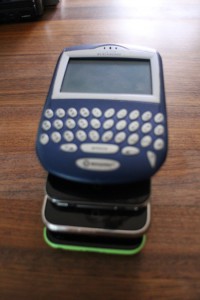 Just last year I updated my iPhone 4 to the new iPhone 5c.  During our last family vacation I dropped my cell phone from a lawn chair and the screen shattered.  It seemed rather symbolic at the time.  With a full time job and a full time course load I am kept busy.  This vacation was an opportunity to take a break from the madness.  The one thing keeping me connected was my cell phone, which broke on the first day of our vacation.  I waited 4 months before getting a new phone because I did not feel that it was worth spending the money for a new device.  Four months later my telecom provider offered our family a credit that covered the cost of a new phone.

I tend to be a creature of habit.  I am not typically concerned with the version of phone.  As long as it is working it is good enough for me. The only reason I update or change my devices is because it breaks or my telephone carrier offers me a new one.  If my carrier did not offer this promotion on occasion I would still likely be using my blackberry because it was sturdy and offered all that I needed.  I typically use it to tell time, to make phone calls, send text messages, and recently I downloaded an app that would document all of my kids sporting events.

I have kept all electronic devices accumulated over the last 16 years.  When we moved into our new home we packed boxes of old VHS tapes and DVDs, which are still sitting in the boxes.  I no longer use the phones in the photograph yet these are sitting neatly in a drawer.  In fact, I have even put my Pentium 233, which I purchased in the late 90's, to good use.  It currently serves as the monitor for my alarm system.

I am skeptical about getting rid of electronic devices because I am concerned that others will have access to my personal information.  I would not want a stranger to have access to my contact list or my financial statements from the last 15 years.  Until now, I was not aware of the best way to dispose of them.  While I had not considered the environmental impact at the time of purchase or when I stopped using them, I am pleased that I have not disposed of any because I feel that I am able to make a better decision about how to do it. In the past I probably would have just thrown them away with the weekly recycling.  Recently, I visited a Best Buy store and noticed that they have a drop box for old cell phones.  I had never noticed this service before but I would definitely consider using this service.