Mike Claydon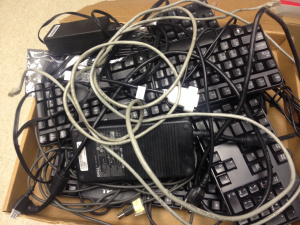 There are three technological devices that I use on a daily bases, my laptop, iPhone, and iPad.  I would have to say that I use my laptop the most out of the three and I use my iPad the least.
For the most part I buy most of my electronics myself but a few have been gifts, such as the iPad.  I received my iPad from my parents this past Christmas.  I had always wanted one, but I couldn't justify the cost.  I have to admit that I use it a lot more than I thought I would, from taking it to class – instead of my laptop – or just playing games and surfing the internet on it.
I have owned my own laptop and phone for about eight years and I am currently on my third laptop and my fifth phone.   I usually get a new laptop when the current one can no longer run certain games without completely lagging out.  When I get a new laptop the old one still works but it's just not up to the standard I need it to be to do what I want.
When it comes to cell phones I usually don't get a new one unless something isn't working, or if my three year contract with the provider is up and I am able to renew for another three years, I get a new phone because they give me newest phone for free (I did this with my iPhone 5).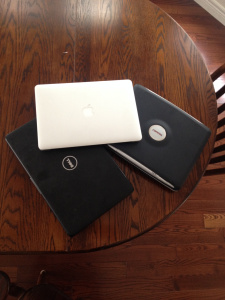 As far as my laptops go – since they are all still currently working (but are very slow) – I just kind of hoard them all in a closet in my room and they just collect dust.

When it comes to my old cell phones,  my family and I  put them all into a drawer and forgot about them, whether the phones work or not. I always make sure that I have the newest of the bunch accessible just in case I ever break my current phone, then I don't have to buy a new one right away.

My family eventually gave all of our old working phones to a family friend that goes to Honduras where there is a program that tries to match people who need a phone with phones that have been donated.

The other kinds of techno trash that we  have piled into a box or two are old mice, keyboards, and every type of charger imaginable, which we decided to keep on a 'just in case' bases.

Mostly all of the techno trash generated by my family hasn't really been disposed of yet; it's all collecting dust.  With any of my electronics I can never really bring myself to throw it out, for some it just doesn't seem right (usually because I paid a lot for it when I first bought it).

I would have to say the person who produces the least amount of techno trash in our family is my Dad.  He doesn't have a laptop and has been using the same desktop dell computer for the last fifteen years or so (it is unbelievably slow).  On top of that he has never owned any type of MP3 or iPod device and has only ever had two cell phones, and the only reason he  got a new one was because the screen stopped working on the one he had for six or seven years.

* Submission is based on an assignment from COMM2F00: New Media Literacy at Brock University.