Julia Haughie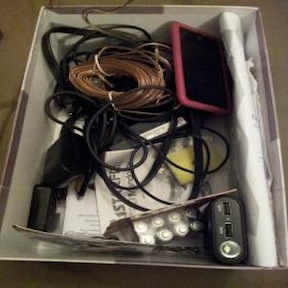 Every day I am woken up by the sound of my smartphone wailing like a rooster. From that point on my day is filled with devices buzzing and flickering with life; from my lap top that I use to take notes, do research and communicate with friends, to the air conditioning unit that keeps me cool, to the television that drones on in the background void of an audience but on none-the-less. These are just a couple of the multitude of devices that I come into contact with every day. Corporations fill our heads with the newest products that we simply must have as they vastly out-perform their predecessor from the previous year. For the most part I can drown out these voices telling me that what I currently own is inferior. I like to cherish my purchases and make them last as long as possible (I did spend my own hard-earned money of them after all) as to not add to the ever increasing weight of techno-trash on our environment.
Two year ago I bought a new cellphone, switching from Blackberry to Android and not because the phone stopped working. In order to prevent wasting the phone I passed it along to my younger sister who did not have a cellphone.
Last year, I purchased a new lap top and passed my old one on to my younger brother who wanted a lap top. Waste not want not. If it still works it does not get throw away, but given to someone who can make use of it to prevent another device from coming into a short existence.
I try to preserve what is old and work it in with the new, as is the case with my record player that was a hand-me-down from my mother, which  received  as a hand-me-down from her brother.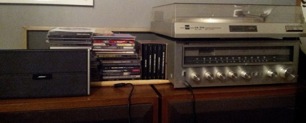 The record player works great still considering it's over 30 years old (although I did have to replace the needle last year for a small price of $10) and I even have it hooked up to a CD player and a new Bose Bluetooth compatible speaker (talk about multiple generations of music in one place). While some have traded in their record players for newer digital forms of music with better sound quality, I still find solace in the rustic sounds of vinyl music. There's something about it that just cannot be replaced or duplicated, not even by the new record players that are made today.

Once a product reaches the end of its life, and I know I will not be able to repair it, I am still hesitant to throw it away (even an old battery). A lot of the time I store it away in the hopes that one day a solution will be found to properly dispose of this technology.

Currently my techno-trash box houses an old iPod whose battery stopped working (thanks to planned obsolescence), an old lap top charger, a digital camera with a broken screen and a tangle of assorted cords that I couldn't part with (you never know you may just need one for something one day).

I have also repurposed old electronics into new items, like the old tube television that I took the screen out of and added a shelf inside to store DVDs. But unfortunately, my small bedroom cannot possibly house every electronic I've owned that has reached the end of its life. With these products I usually bring them to a recycling center that claims to properly dispose of such materials, but do they actually? I don't know and it makes me cringe just to think where those items ended up. Whose playground did they clutter? Whose stream did they pollute? Whose community did they destroy?

The guilt is terrible every time I have to dispose of an electronic device, like a mother leaving her child on a church stoop for someone else to care for. For some its easy and doesn't require much thought, it's as simple as, "I don't want it anymore so I can throw it away", but for me it's not that simple because I know that this decision will affect someone else in another country or another life. The RBC commercial about the children wanting their children to be able to swim in the lake always gets me and every time I have to throw something away that idea pops into my head – what will the world be like for my children's children?

 * Submission is based on an assignment from COMM2F00: New Media Literacy at Brock University.