Jordan Mullins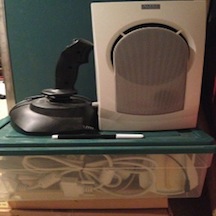 Whether I am at school, home, work, in the car, etc., I am always using some sort of technological device. On a daily basis, I would say that I use several different types of electronics including my cell phone, iPod, laptop, television, radio and more domestic related technology such as the oven and microwave.
Since I am still young and live at home, my parents have supplied most of these listed devices;  I acquired my cellphones and laptop through birthdays, Christmases and as a graduation gift. I am fortunate enough that my parents have purchased these electronics for me, however I know that this luxury will not last long. Once I move out and find my own place, it'll be up to me to decide which technological devices I really need as opposed to what I want.
Looking back on the history of my technological use, I haven't made too many changes.
My first cellphone was given to me in grade 9 as a Christmas present from my parents. Unfortunately this phone only lasted me a couple years. In grade 11, I was given my first-ever iPhone for my birthday and I was absolutely thrilled. This was the phone everyone had been talking about, and I was finally fortunate enough to have one myself!
A couple weeks after I had my new phone, I saw a commercial on TV that was advertising the newer and "better" model of iPhone that would soon be released. I remember thinking how ridiculous it was that they were already advertising an updated version of the phone I just received, yet a little part of me was jealous that I couldn't have it right away.

Christmas of last year, I was handed the iPhone 5 and I still use that phone to this day and will continue to until it no longer works.

My laptop, however, was given to me in grade 12 as a graduation gift and I plan on using it for several more years to come.  I am usually pretty good with taking care of my devices and being responsible when it comes to needing another one. I am not the kind of person who needs the better and newest model of a device and will only go out and change my device when it has lost its ability to work properly and efficiently, or if I happen to receive one as a gift.

Until recently, I wasn't aware of how many devices I had but wasn't using. I figured there were maybe one or two devices that had yet to be disposed, but it turns out that there are various cords and connectors, alarm clocks, speakers and an old computer hard drive and keyboard that are still lying around our house.

I  consider my family to be eco-friendly, but I guess we just haven't gotten around to disposing of all of our devices yet. This being said, there have been and will continue to be opportunities for us to dispose of our technological devices, whether it's through selling, donating or recycling them. We have used all three options before, but recycling our electronics seems to be the most popular.

Every so often in Port Colborne, recycling stations designated towards the disposing of e-waste are set up at local schools and business parking lots. These stations allow individuals to come and drop off their electronics and technological devices that they no longer need, and are sent to certain companies to be disposed of properly – also known as recycling. This is probably the best and safest way to dispose of  e-waste and to help protect and improve the environment.

I believe that I have always been an eco-friendly individual and will do what I can to help improve our environment. When it comes to the use and disuse of my technological devices, I always try to be conscious of the impact of e-waste on our earth, both socially and environmentally. The toxins and hazardous chemicals within these devices are essentially why e-waste can be so harmful, which is why it is important to keep ourselves educated and updated on this issue. If we all became a little more cognoscente of these dangers, I believe that it will definitely drive us to be more responsible towards how we deal with e-waste.

* Submission is based on an assignment from COMM2F00: New Media Literacy at Brock University.