Garo Ekserci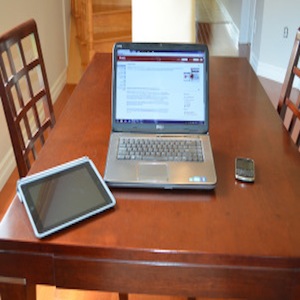 According to United Nation's predictions (United Nations University, 2012), the amount of waste produced by electrical devices will total 65.4 million tons by the year 2017.  If we are to be responsible consumers interested in preserving our planet, the first step is to examine our own contributions to the generation of this techno-trash.  To guide my personal reflection, I've considered which devices I use most often, how often I replace them, and how I go about discarding these products when I stop using them.
On a daily basis I've come to rely on three basic electronic devices, all of which link me to the internet and serve as convenient communication devices.  The item I rely on most is my laptop computer which I purchased three years ago.  I use this item mainly for work and study purposes.  I purchased a Blackberry smartphone about five years ago and use it frequently to check my email, organize my calendar, communicate with others, and less frequently to access the web for smaller tasks I don't want to turn my computer on for. Lastly, this Christmas I was fortunate enough to receive an I-pad as a gift from my wife; probably because the course registered for required me to use an e-book and I was monopolizing her tablet.
I've been replacing personal computers every five years.  I had to replace my first computer because it had become a dinosaur.  The memory and speed of this machine could no longer run even basic programs at respectable speeds and was not equipped with a DVD drive which virtually all other computers had as standard equipment.  It was definitely time to replace this computer, with a brand new modernly equipped laptop which I assumed would keep me happy for 10 years or so.  Well I was so sadly mistaken.  Five years later, I had been through two batteries, had virtually no memory left, and the machine was running frustrating slow compared to its younger years.  I'm now on my third computer, again purchased the best I can afford, but at the three years mark I predict it will realize the same fate as its predecessors two years from now.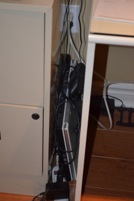 A similar pattern exists with my smartphones.  Alarmingly, these so far have been replaced every three years.  A consistent issue with these items has been short battery life, coupled with three year contracts that encourage an upgrade to a new and much improved product for less than the price of maintaining the older product.  With such incentives, it's difficult justifying holding on to an older product.  While my I-pad is less than one year old, based on other experiences I expect it will also wear out its welcome within four years.

Up until last year I had been saving my old electronic devices, with the exception of my old laptop (pictured in hibernation below) which I plan to refurbish for my children.  Last year I took all the techno-trash that had been accumulating in my basement to a municipal hazardous waste recycling centre.  However, should I have decided to dispose of these items any earlier, I likely would have dumped them in my garbage can out of ignorance.

The overconsumption of electronic devices has real environmental and social consequences that shouldn't be ignored.  Considering the world population and the rate at which people replace these products, it's easy to see how the staggering tonnage of techno-trash has come to exist, and without effective measures to curb its accumulation, will continue to gro.

Worse yet, I've learned that much of this toxic trash is shipped off to find a home in third world country landfills, under the guise of being re-used by the less fortunate.  It seems corporations have little problem convincing people their old devices are serving a noble purpose, when in-fact they are poisoning their new habitat.  I feel companies selling these products need to take more responsibility for educating customers about end of life disposal for their products they sell.  Socially, production of these products does little to improve life circumstances of labourers manufacturing them.  Rather than sharing profits by offering fair wages to desperate workers, low pay and poor working conditions are used to maximize profits.  This business practice prevents workers from improving an already poor lifestyle, reinforcing their sub-standard socioeconomic position in the global environment.  Reflecting on the social and environmental impacts of owning these products will certainly influence my future purchasing decisions.

* Submission is based on an assignment from COMM2F00: New Media Literacy at Brock University.