Deanna Keane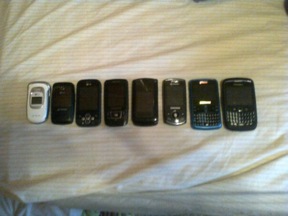 Technology is embedded into our daily lives, it is inevitable.  When we wake up we check our phones, when we go to work, we check our emails, and when we are done work we throw on our iPods for the departure home.  We do these things without thought, almost like clockwork.
On a daily basis I use such technologies as my iPhone, my Mac and my iPod.  When I am at work I use a telephone and my work computer.  I use these devices daily, and I don't think I have gone without my iPod in a long time.  When I forget my phone, or my iPod at home, I feel lost.  It is a bit pathetic actually, the agony I go through when I am without my phone or iPod.  I usually use my phone as my iPod so when I am without my phone I  have nothing to do during my travel time.
My family's first computer was acquired around when I was 10 and I used it for mostly games.
I bought my first cell phone in grade 9, when I had my first job and when I could pay my own bill.  I was so excited.  It was the Samsung Solo Mobile walkie-talkie phone, and it was amazing.  All my friends had this phone and it became so easy to communicate with my family and friends.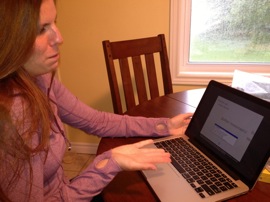 I bought my first laptop when I was going into my first year of university and it was a Fijitsu. I bought it from the campus store.  Last summer my laptop began to die so I upgraded to a Mac Book Pro with Retina Display, the king of all laptops.  I absolutely love my new laptop and it is so fast and easily portable.  This was the first time I changed laptops and there was a 4 year gap from when I purchased my first laptop to when I replaced it.

I have had a number of cell phones, and they have gotten replaced for various reasons.  My last phone was a Blackberry Bold, and it was stolen so I had to get a new one, which I ended up getting the iPhone 4S, which I still have today.  In the future I believe I will stick to Apple products, just because of their easy of use and iCloud technology.  When I change my devices it is usually because they are broken or outdated, or in some cases, lost or stolen.

I have disposed of a few of my cell phones through disposal bags and dropping the bag off at a location that accepts them.  This is a more economical means of disposal as the devices are sent to a safe and secure disposal location.

I have one of my cell phones still, which is in a drawer in my closet.  I have been keeping this phone because it is in good shape, and someone in my family might want to use it if their cell phones break.  I also have my last laptop as it still works, and I keep it at my parents' house for my sister who uses it occasionally.

In some cases I have disposed of my old cell phones by just throwing them in the trash, which is not a good way of disposal but it is easy.  I do consider the social and environmental impacts of my devices but only to a certain extent.  After learning about techno-trash I am more aware of the impacts to our environment, and in the future I will be more cautious when disposing of my devices.

* Submission is based on an assignment from COMM2F00: New Media Literacy at Brock University.